The fourth quarter in 2017 saw our scoreboard number rise despite being retired. The long bull market really helps, but we know it won't run forever. This is precisely why I'm positioning my clients to be ready to ride the next wave. During November and December, I've been providing my financial and fitness coaching services free of charge. I'm grateful for all the new clients I've spoken with and had the opportunity to get to know on a more personal level.
We engaged on the longest continuous travelling that we've ever done (not having to work has some real perks). We traveled to San Francisco, Seattle, northern Washington, and Vancouver for nearly four full weeks. We've continued reading books and attended more meetings with the Austin Area Mustachians Facebook group. It's exciting to hear about so many people in the group reaching new milestones, achieving financial independence, and closing in on retirement. One of the members within that group alerted me to Junior Achievement — an organization which aligns with my values that I have begun training with.
Today on my blog, I'm providing an update to our scoreboard. When our scoreboard is moving toward an upward direction, I like to reference to it as a snowball.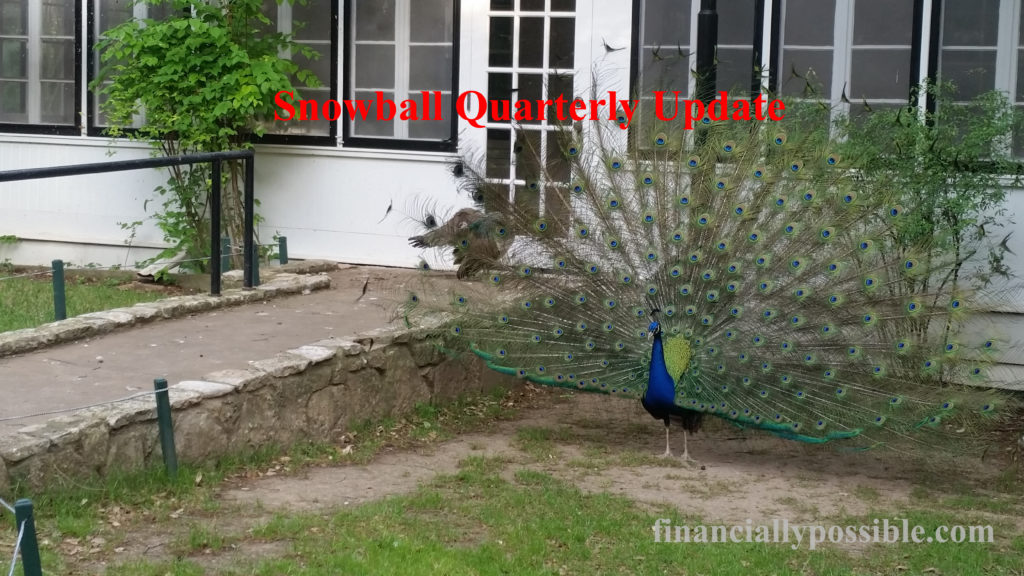 You may wonder why I chose a photo of a peacock as the featured image for this article. What does a peacock have to do with a scoreboard or snowball?
The peacock is symbolic in nature for me. I believe money itself buys little. The absolute best thing money can buy in this life is the freedom from having to worry about money (aka financial security). There are those who do not share my opinion and are constantly choosing to spend their money on all manners of status symbols, displaying their wealth to others like the creature shown above (as it was trying to attract a mate). Ironically, this behavior tends to actually result in less wealth.
Over the last 90 days, our snowball has grown from $1,691,000 (September16th 2017) to $1,711,700 (December 14th 2017). This represents a 1.22% increase which outpaces my rough estimate for quarterly inflation at 0.73%. We're thrilled to have such a result and we hope that this momentum carries into future, but we're also planning for a recession that could be just around the corner.
This $20,700 increase represents market gains on investments, but not all of the gains. Our cash has reduced over the past three months since we've been retired and paying for our own health insurance.
Lastly, these past three months have afforded me the opportunity to learn a lot about education locally. I've been constantly talking with people in the community to learn about their concerns about the schools and as tax-paying residents. I'm amazed at the diversity of opinions and I've made many surprising discoveries simply by listening to others. My personal feeling is that education is society's way forward. I feel very excited at the moment as I gear up for my RRISD school board run in November 2018. In addition to being a dedicated board member, I'll be an advocate for education at the state level. Luckily, the Texas capitol is not too far of a drive away.
Enough about our snowball, let's get yours rolling! I'd love to hear from you in the comment section below. Please post any financial questions you can think of here for me to answer.
Have any questions for me regarding my retirement?
Have any thoughts, opinions or concerns you'd like to share on the topic of education?